Tarek and Heather Rae El Moussa's Relationship Timeline Is a Total Whirlwind
HGTV's Tarek El Moussa and "Selling Sunset"'s Heather Rae El Moussa have had quite a whirlwind romance. After meeting on July 4, 2019, the couple quickly hit a lot of relationship milestones - which included traveling the world, moving in together, and seemingly falling madly in love. And on July 25, 2020, Tarek got down on one knee and proposed marriage to Heather. Since then, the two have tied the knot and welcomed their first child together. Tarek was previously married to "Flip or Flop" costar Christina Hall for seven years before he filed for divorce in January 2017. The two share two kids together - Taylor and Brayden El Moussa. "When we first started dating three years ago, we went into our relationship not planning on having children together," Heather told People in a July 2022 interview after announcing her pregnancy. "I really love being a bonus mom to Taylor and Brayden. They're such incredible kids and I love them so much. But as your love grows more and more and you fall deeper in love with someone and you build this life together, I started picturing myself having a child with Tarek. I started thinking I just wanted to create something with the man that I'm in love with." Tarek added that he's "obsessed" with his kids, whom he describes as his "everything," but "having another one is just icing on the cake." Read ahead for all the major moments in Heather and Tarek's years-long romance. Related: Tarek El Moussa and Heather Rae Young's Love Story Has a Sweet and Nautical Origin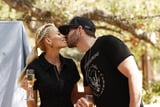 HGTV's Tarek El Moussa and "Selling Sunset"'s Heather Rae El Moussa have had quite a whirlwind romance. After meeting on July 4, 2019, the couple quickly hit a lot of relationship milestones - which included traveling the world, moving in together, and seemingly falling madly in love. And on July 25, 2020, Tarek got down on one knee and proposed marriage to Heather. Since then, the two have tied the knot and welcomed their first child together.
Tarek was previously married to "Flip or Flop" costar Christina Hall for seven years before he filed for divorce in January 2017. The two share two kids together - Taylor and Brayden El Moussa.
"When we first started dating three years ago, we went into our relationship not planning on having children together," Heather told People in a July 2022 interview after announcing her pregnancy. "I really love being a bonus mom to Taylor and Brayden. They're such incredible kids and I love them so much. But as your love grows more and more and you fall deeper in love with someone and you build this life together, I started picturing myself having a child with Tarek. I started thinking I just wanted to create something with the man that I'm in love with."
Tarek added that he's "obsessed" with his kids, whom he describes as his "everything," but "having another one is just icing on the cake." Read ahead for all the major moments in Heather and Tarek's years-long romance.